Tuesday, November 5, 2019 2:00 PM
STATE'S SECOND ANNUAL REVERSE JOB FAIR BRINGS POTENTIAL EMPLOYERS TO YOUNG ADULTS WITH DISABILITIES AT THE STATE CAPITOL
Young adults with disabilities had a golden opportunity to highlight their skills and land their first jobs at the state's second annual Reverse Job Fair at the Hawai'i State Capitol on October 29.

The 77 candidates stationed at individual booths had the chance to meet with human resource representatives from 93 local companies, state, city and county departments and agencies. They included Aloha Gas, Central Pacific Bank, CVS/Longs, Hard Rock Café, Hawaiian Airlines, Hawaiian Electric, Hawaiian Telcom, Hilton Hotels, Queens Medical Center, Y. Hata, YMCA, the University of Hawai'i, the state Departments of Human Resources, Agriculture, Taxation and Transportation.

"The goal of building a diverse workforce is made easier for businesses through this reverse job fair. This event gives our young adults with disabilities the exclusive opportunity to connect with potential employers, showcase their abilities and value and find meaningful employment," said Sen. Donna Mercado Kim, co-chair, Legislative Host Committee.

The annual Reverse Job Fair is made possible through a partnership between the Office of the Governor, Hawai'i State Legislature and five state departments, and is held in the month of October which is National Disability Employment Awareness month.

The event is sponsored by 1132 Café, the state Department of Accounting and General Services, Hawai'i Sheet Metal Workers Union, Legislative Host Committee, Lt. Gov. Josh Green, Victor Lim – McDonald's Fort Street Mall and United Laundry Services.
---
Tuesday, September 24, 2019 2:44 PM
ALL MAIL ELECTIONS IN 2020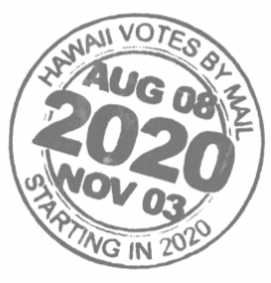 Hawaii passed Act 136 this past session implementing elections by mail beginning with the 2020 Elections. All properly registered voters will automatically receive a mail ballot packet approximately 18 days prior to the election.
WHAT VOTERS NEED TO KNOW ABOUT ELECTIONS BY MAIL

Keep Your Voter Registration Record Up to Date: Ballots are mailed to the voter's mailing address associated with their voter registration record. Voters who have moved, changed their name or mailing address, must update their voter registration. Voters may check online or call their Clerk's Office to confirm that their voter registration is current.

Not yet registered? Register online or complete a Voter Registration Application and submit it to your Clerk's Office.

Receiving Your Ballot: All properly registered voters will receive a mail ballot packet approximately 18 days prior to the election.

The mail ballot packet contains:
*A ballot
*A secret ballot envelope
*A return ballot envelope
*Voting instructions

If you do not receive your mail ballot packet, contact your Clerk's Office.

Voting Your Ballot: Follow these tips to ensure that your vote counts.
*Before voting, review the instructions, contests, and candidates on both sides of the ballot.
*A properly marked ballot counts 100% of the time. When marking the ballot, completely fill in the box to the left of your choice with a black or blue pen.
*Voters have the right to spoil their ballot. If you change your mind or make an error, contact the Clerk's Office for a replacement ballot.

Preparing Your Ballot for Return: After voting your ballot, re-fold it and seal it in the secret ballot envelope. The secret ballot envelope ensures your right to secrecy as the ballots are opened and prepared for counting. Once sealed, place the secret ballot envelope in the return envelope. Read the affirmation statement and sign the return envelope before returning it to the Clerk's Office. Voters must sign the return envelope for the ballot to be counted.

Returning Your Ballot: Voters may return their ballot by mail or in-person at a designated place of deposit. Voted ballots must be received by the Clerk's Office by 7:00 p.m. on Election Day.
*By mail: Voters should mail their voted ballot 2-3 days before the election to ensure that the Clerk's Office receives it by the deadline.
*Voter Service Center: Voters may visit any voter service center within their county to drop off their voted ballot.
*Clerk's Office: Voters may return their voted ballot directly to their Clerk's Office.

Locations and hours of Ballot Drop Sites and Voter Service Centers will be available in May 2020.

Processing Your Ballot: Upon receipt of your return envelope, the Clerk's Office conducts a signature validation. After your signature is validated your ballot will be forwarded to State Election Officials to be counted.

Voter Service Centers: The Clerk's Office establish voter service centers that will be open 10 days prior to each election. Voters may visit any service center within their county should they prefer to vote in person. Additionally, the service center will provide accessible voting and same day registration.
Visit the FAQs page here for frequently asked questions about elections by mail.
---
Thursday, September 19, 2019 3:03 PM
HAWAII BRINGS HOME JUNIOR NATIONAL CHAMPIONSHIPS
Congratulations to the Spike and Serve girls and boys teams for winning this year's USA Junior National Volleyball Championships. This is the first time in the Spike and Serve program's history that both the girls and boys teams captured national championships in the same year. Senator Kim, whose son Micah serves as the head coach for the boys team, organized the proclamation ceremony with the governor's office. Senator Laura Thielen, many of whom reside in her district, also participated in the ceremony. Congratulations to both teams!
---
Thursday, September 19, 2019 2:53 PM
MOANALUA FREEWAY IMPROVEMENTS SLATED FOR EARLY 2020
At the July Kalihi-Palama Neighborhood Board meeting, Senator Kim raised the issue of poor pavement conditions on Moanalua Freeway in the vicinity of the Fort Shafter on and off- ramps heading westbound. The Department of Transportation Highways Division responded to senator's inquiry via a letter with an update on the road conditions. In summary, DOT Highways is developing a project on Moanalua Freeway in the westbound direction to extend the auxiliary lane from Fort Shafter off-ramp to the Halawa off-ramp through restriping and other necessary improvements. They will be reviewing and evaluating pavement conditions on Moanalua Freeway and addressing deficiencies. Construction of this project is anticipated to start in the first half of 2020.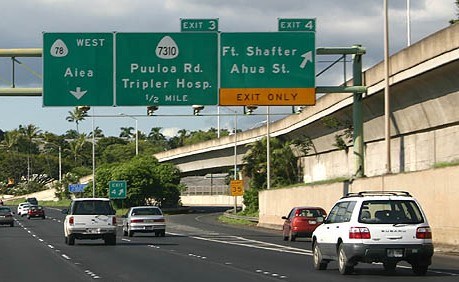 ---
Friday, August 31, 2018 3:45 PM
Hot Off the Press...Community Bulletin
Click the links below to view Senator Kim's bi-annual community bulletin. The bulletin recaps the legislative session including major issues, highlights and accomplishments, and the community survey results from the spring community survey.
2019 Summer Community Bulletin
2019 Spring Community Bulletin
2018 Summer Community Bulletin